---
Bomba Movies
BOMBA THE JUNGLE BOY (1949 - 70 minutes)
Peggy Ann Garner. Onslow Stevens. Charles Irwin. Smoki Whitfield. Martin Wilkins.
A photographer and his daughter arrive in Africa hoping to capture the local wildlife on film. Instead, they encounter (and never photograph) a killer leopard, a swarm of locusts, deadly lion worshippers, and Bomba the Jungle Boy!
Bomba was raised by an aged naturalist, Cody Casson (since deceased) and lives beyond the Great Rift (similar to, but smaller than, Tarzan's Escarpment). The photographer's daughter, wearing a well-tailored leopard skin, spends most of the movie with Bomba, while her father, Commissioner Barnes, and Eli search for her.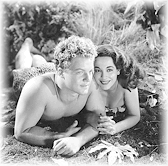 BOMBA ON PANTHER ISLAND (1949 - 76 minutes)


Allene Roberts. Lita Baron. Harry Lewis. Charles Irwin. Smoki Whitfield.
A developer brings his sister with him to Africa with plans to build a plantation. Commissioner Barnes and Eli are back again to lend a hand, but unfortunately for them (and Bomba's monkey friend) a rogue panther is on the loose.
Bomba, with revenge on his mind, is hunting the panther when he comes upon the construction site. He gets sidetracked (and who can blame him) by the sister and her exotic traveling companion, but recovers in time to battle the panther in an exciting finish!

THE LOST VOLCANO (1950 - 67 minutes)


Donald Woods. Marjorie Lord. John Ridgely. Robert Lewis. Elena Verdugo. Don Harvey. Grandon Rhodes. Tommy Ivo.
The parents of a young boy think Bomba is just an imaginary friend. Luckily, they learn differently after the boy is kidnapped by a pair of crooked jungle guides who are searching for a lost city's treasure.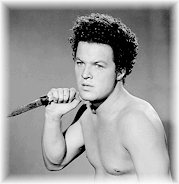 Bomba rescues the boy (often!), battles a croc, and with the help of an erupting volcano, finishes off the bad guys.

THE HIDDEN CITY (1950 - 71 minutes)


Sue England. Paul Guilfoyle. Damian O'Flynn. Leon Belasco. Charles La Torre. Smoki Whitfield.
A photographer and his guide meet a corrupt Emir with a dirty secret. Only Bomba knows the truth and the Emir wants him silenced! Bomba defeats the Emir and his henchmen, returning a lost princess to her throne.
This is the first Bomba movie to be filmed outdoors and it is very effective.

THE LION HUNTERS (1951 - 75 minutes)


Morris Ankrum. Ann B. Todd. Douglas Kennedy. Smoki Whitfield. Robert Davis. Woody Strode.
A lion trapper and his daughter rendezvous with their hardheaded partner in the African jungle. Bomba, with some assistance from the local natives and lions, runs them off.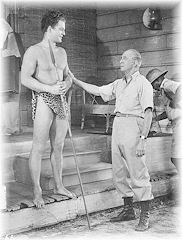 Bomba uses the word, "Umgawa," for the first time. Not even the presence of the mighty Woody Strode can save this movie...

ELEPHANT STAMPEDE (1951 - 71 minutes)


Donna Martell. John Kellog. Edith Evanson. Martin Wilkins. Myron Healey. Leonard Mudie. Guy Kingsford.
A school teacher has the locals learning to read. Her beautiful assistant is teaching Bomba when two ivory poachers arrive in the village, who try to force Bomba to lead them to a hidden cache of ivory.
Bomba calls on his elephant friends to deal out the fitting finish (a particularly grisly scene, I should add).
A new Commissioner Barnes shows up and he appears in all the adventures that follow.

AFRICAN TREASURE (1952 - 70 minutes)


Laurette Luez. Lyle Talbot. Arthur Space. Lane Bradford. Martin Garralaga. Smoki Whitfield. Leonard Mudie.
Two unscrupulous geologists force the locals to work a hidden diamond mine. Bomba, while narrowly avoiding being buried alive, rescues them and defeats the villains.
Bomba demonstrates some communication skills as a jungle drummer (an ability that is used in all the movies that follow). There is also some enjoyable underwater action in this movie and a cameo by Woody Strode.

BOMBA AND THE JUNGLE GIRL (1952 - 70 minutes)


Karen Sharpe. Walter Sande. Suzette Harbin. Martin Wilkins. Morris Buchanan. Leonard Mudie. Don Blackman.
Bomba decides to find out who his parents were. He starts with Cody Casson's diary and follows the trail to a native village. An ancient blind woman tells him his parents and the village's true ruler were murdered by the current chieftain and his daughter.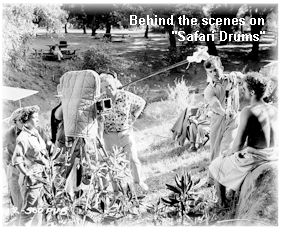 With the aid of an inspector and his daughter, Bomba battles the usurpers in the cave where his parents were buried.
I'm not sure which daughter is the Jungle Girl of the title - probably the villainess...

SAFARI DRUMS (1953 - 71 minutes)


Douglas Kennedy. Barbara Bestar. Paul Marion. Russ Conway. Emory Parnell. Smoki Whitfield. Leonard Mudie.
A millionaire brings a tiger and film crew to Africa in hopes of staging a lion/tiger battle. Commissioner Barnes learns that one of the crew is a murderer and asks Bomba to find out which one!
The Lost Volcano erupts again (this film makes masterful use of previously seen footage!) and the lion/tiger battle is amazing!

THE GOLDEN IDOL (1954 - 71 minutes)


Anne Kimbell. Paul Guilfoyle. Leonard Mudie. Smoki Whitfield. Lane Bradford. Rick Vallin.
Prince Ali wants the Golden Idol of Watusi and hires a ruthless hunter to get it for him. Bomba has the idol and, with the help of Commissioner Barnes, Eli, and a beautiful archeologist, he foils Ali's plans.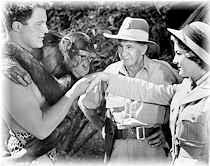 Ali and the hunter are noticeably more cold-blooded than most of Bomba's adversaries!

KILLER LEOPARD (1954 - 70 minutes)


Beverly Garland. Barry Bernard. Donald Murphy. Leonard Mudie. Smoki Whitfield. Russ Conway. Rory Mallinson. Roy Glenn.
Bomba is hunting a rogue leopard when Commissioner Barnes asks him to assist a movie starlet trying to find her lost husband. The husband, wanting nothing to do with his famous wife, isn't lost and is in Africa attempting to use money he embezzled to purchase illicit diamonds.
Bomba has his hands full with both the leopard and the villain in an exciting finish!

LORD OF THE JUNGLE (1955 - 69 minutes)


Wayne Morris. Nancy Hale. Paul Picerni. William Phipps. Smoki Whitfield. Leonard Mudie. James Adamson.
Bomba must locate a rogue elephant before a stubborn group of government agents slaughter the entire herd. Surprisingly, Commissioner Barnes sides with the agents but his visiting niece helps Bomba.
After surviving a stampede (while tied up!), Bomba identifies the guilty elephant and rescues the herd.
---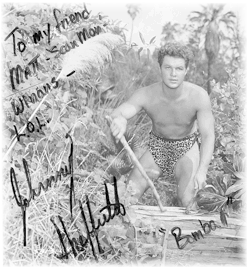 Acknowledgements
I gratefully acknowledge and thank the following individuals, without whom this page couldn't have been:
My dad, who bought me a copy of Gabe Essoe's Tarzan of the Movies before I was old enough to read it. Ed Stephan, his Tarzan of the Internet page is fantastic and motivating. The usual suspects; Jason, my wife Jill, Caitlin, Meagan, Jacob, Nicholas, Logan & Grace, Scott, Wendy, Pierce, Kathleen, Shelley, Alissa, Marie, Leah and Jennifer.
And finally, a very special thank you to my good friend, Johnny Sheffield. Thanks for all your help and encouragement!
---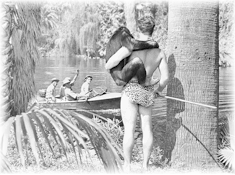 See You Next Time!

©1996-2008 Matt Winans
Matt's Bomba the Jungle Boy Movie Guide
Originally Posted 20 September 1996
Last Modified 22 January 2011
Send comments/criticisms/fan mail to Web-Host