1932 TARZAN, THE APE MAN (99 minutes - video, VCD, DVD)


Johnny Weissmuller. Maureen O'Sullivan. Now we're talking! Jane tags along with her father and his partner as they safari in search of the mysterious elephant graveyard. Once they are deep in the jungle, Tarzan "discovers" Jane and promptly kidnaps her. They, quickly, fall in love and then the action begins. The safari is captured by a tribe of pygmies and Tarzan must rescue them - with the help of his friends, the elephants.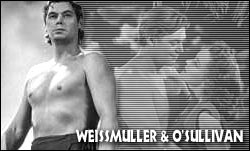 This is a fantastic adventure film! Weissmuller is easily the best known of the movie Tarzan's and does a great job (even if Tarzan isn't portrayed as the intelligent guy he is in the books). What can I say about Maureen O'Sullivan? She IS Jane; intelligent, sexy and quite capable of taking care of herself (until she meets Tarzan)...
Remade in 1959 with Denny Miller and in 1981 with Miles O'Keeffe.
1934 TARZAN AND HIS MATE (93 minutes - video w/extended footage, VCD, DVD)


Johnny Weissmuller. Maureen O'Sullivan. After barely surviving the first time around, Holt decides to return to the elephant graveyard. He and his partner are hoping Tarzan will help them, but when he refuses they go it alone.
They soon find themselves surrounded by hostile natives and must fight for their lives. They don't do a very good job of it, but Tarzan (and the elephants) arrive just in time to save Jane.
This is the ULTIMATE Tarzan movie (and my favorite movie, bar none, of all time)! The extended footage included on the video release makes it even better! Tons of exciting action, a cool villain, great photography and Miss O'Sullivan in a leather bikini! Wow!
This movie has it all. I've watched it more times than I can count, but still keep coming back for more. The characters are well done and the excitement/wonder never stops. The popular crocodile battle sequence is used here for the first time.
1936 TARZAN ESCAPES (95 minutes - video, VCD, DVD)


Johnny Weissmuller. Maureen O'Sullivan. Jane's cousins hire an unscrupulous guide to help them find Tarzan. They want to inform Jane of a large inheritance she has received. The guide, on the other hand, wants to capture Tarzan and make an exhibit of him. Once again the safari is surrounded and captured by hostile natives and, with the help of the elephants, Tarzan must rescue them.
We get our first glimpse of the infamous Tarzan treehouse. Jane is wearing more clothing this time around but she is still breathtaking.
Having read the Big Little Book, the "lost" version of this movie sounds even more interesting...
1939 TARZAN FINDS A SON (90 minutes - video, VCD, DVD)


Johnny Weissmuller. Maureen O'Sullivan. Johnny Sheffield. A small plane crashes in the jungle, its only survivor a baby boy. The baby is rescued by Cheetah and taken to Tarzan's home. He and Jane raise the child as their own and name him Boy.
Later, a safari arrives looking for the lost plane. The safari, Jane and Boy manage to get captured by (you guessed it) hostile natives and, after a breathtaking escape by Boy, are rescued by Tarzan and his elephant friends.
I love this movie. It is exciting and I always wished (and I sometimes still do) I could be Boy...
1941 TARZAN'S SECRET TREASURE (81 minutes - video, VCD, DVD)


Johnny Weissmuller. Maureen O'Sullivan. Johnny Sheffield. Boy runs away in search of civilization. He winds up in a plague-infested native village and is rescued by a safari on a scientific expedition. They, in turn, are rescued by Tarzan.
Boy unknowingly informs the less scrupulous members of the party of the existence of gold in Tarzan's jungle and the adventure begins. The safari, along with Jane and Boy, are captured by natives and Tarzan (with the elephants) must save his family.
Another great Weissmuller/O'Sullivan movie. Lots of fun and the O'Doul character is excellent.
1942 TARZAN'S NEW YORK ADVENTURE (71 minutes - video, VCD, DVD)


Johnny Weissmuller. Maureen O'Sullivan. Johnny Sheffield. Believing Tarzan and Jane are dead, Boy is kidnapped/taken to New York City, where he is put to work in a circus. Tarzan and Jane track him down and must fight for his custody in court. That doesn't go well so Tarzan takes it upon himself (with the help of the elephants) to get Boy back.
I think everybody remembers this one. Tarzan in a suit! With the exception of the scene where Tarzan dives off the bridge (and an unnecessarily racist phone gag), I like everything about this movie.
Johnny Sheffield, in an unsuccessful attempt to get me to increase this film to 5 star status, reminded me the film, "contains shots of the only BABY ELEPHANT ACT ever TRAINED OR FILMED! George Emerson, the animal trainer for Metro Goldwin Mayer, was primarily a "Bull" (elephant) Trainer, and he trained Sally, Happy, & Queeny in the Baby Elephant Act conducted by Boy and presided over by Cheetah."
1943 TARZAN TRIUMPHS (78 minutes - DVD)


Johnny Weissmuller. Frances Gifford. Johnny Sheffield. Tarzan battles the Nazis as they try to enslave the hidden city of Palandria. Jane has returned to London to be with her sick mother, but Boy manages to get captured. "Now Tarzan make war!" declares Tarzan before he begins to pick off the Germans one by one.
Frances Gifford played Nyoka in one of my favorite Republic serials, Jungle Girl (which, by the way, has some of the coolest vine-swinging scenes you will ever see).
1943 TARZAN'S DESERT MYSTERY (70 minutes - DVD)


Johnny Weissmuller. Nancy Kelly. Johnny Sheffield. Jane sends a request for Tarzan's fever medicine to aide Allied soldiers who have contracted jungle fever. Tarzan and Boy journey across a great desert to retrieve the vines needed for the medicine. They get mixed up in a spy plot involving an Arab prince, a wild stallion, and a beautiful American performer.
Tarzan battles a giant spider that has to be seen to be believed.......
1945 TARZAN AND THE AMAZONS (76 minutes - DVD)


Johnny Weissmuller. Brenda Joyce. Johnny Sheffield. Jane returns, but she isn't Miss O'Sullivan. An archaeological team arrives in search of the lost Amazon city of Palmeria. Tarzan refuses to help them, but they trick Boy into helping them and go on anyway. Tarzan saves both the city's relics and Boy in the nick of time.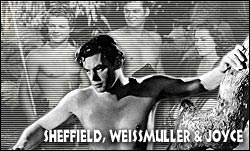 1946 TARZAN AND THE LEOPARD WOMAN (72 minutes - DVD)


Johnny Weissmuller. Brenda Joyce. Johnny Sheffield. Trader caravans are being ambushed by an evil leopard cult. Their leader is the beautiful, but deadly, Priestess Lea. Her twisted little brother is sent to spy on Tarzan and his family ... providing the perfect foil for Boy. Tarzan rescues four teachers, Boy, and Jane from the cult in a crashing finish.
I gave this one 3 stars because Weissmuller got himself back in shape for it and the villainess is very cool.
1947 TARZAN AND THE HUNTRESS (72 minutes - DVD)


Johnny Weissmuller. Brenda Joyce. Johnny Sheffield. Animal trappers come to capture animals for the zoos. They want more than they are legally allowed and have King Farrod, a friend of Tarzan's, killed to avoid the quota. Tarzan gets involved and rescues the animals and makes sure the King's son, Prince Suli assumes the throne.
This movie marks Boy's last appearance. Sheffield went on to be Bomba, the Jungle Boy, in his own film series.
1948 TARZAN AND THE MERMAIDS (68 minutes - DVD)


Johnny Weissmuller. Brenda Joyce. Tarzan travels to Aquatania, a forbidden island land, to free its people from a corrupt high priest. Tarzan dives from a perilously high cliff and battles a giant octopus before unmasking Aquatania's pagan god and saving the day.
Weissmuller's last Tarzan. He went on to star in 16 Jungle Jim movies, some of which, aren't too bad.
Tarzan® is the property of Edgar Rice Burroughs, Inc., Tarzana CA
This independent reference to, and appreciation of, the Tarzan movies is copyright © 1995-2011 Matt Winans
Originally posted in October 1995 - Last Modified 01 July 2011
Send comments/criticisms/fan mail to Web-Host
Maintained in Memorial to Matt Winans (1964-2008)
Tarzan Movie Guide (d/b/a Brady World) is a participant in the Amazon Services LLC Associates Program, an affiliate advertising program designed to provide a means for sites to earn advertising fees by advertising and linking to amazon.com.