This is where I ramble on about various jungle-things that I want to cover in greater detail sometime soon. This section will be (hopefully very soon) greatly expanded to include Tarzan comics and radio shows. There will be an increase in the graphics/photos soon, too.

I'd like to start by thanking all the Tarzan fans who have taken the time to write me. I love hearing from you, but lately I haven't had enough time to answer many of you ... I apologize and hope to do better soon. If there is anything you'd like to see covered; let me know - I'm open to suggestions. Keep the mail coming!
---
---
Unauthorized Tarzan Movies
There have been countless "unauthorized" and rip-off Tarzan movies over the years. I'd love to be able to review/list them all, but I'm going to stick with the few I've seen (I've been very generous with my ratings in this section)...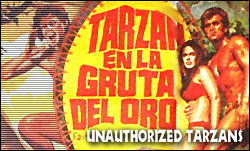 1969 TARZAN EN LA GRUTA DEL ORO (72 minutes)


Steve Hawkes. Kitty Swan. A couple of thugs, after some Amazon gold, kill an old prospector. Unfortunately for the killers, the prospector was a friend of Tarzan.
An odd, inept movie. The Amazons have no real place in the movie; it's their gold but they certainly don't defend it. Hawkes, who looks a little like Ron Ely or Elvis, is called "Zan" and has a talking (poker playing!!) parrot as a companion. Lots of running around but it doesn't make a lot of sense. Hawkes' yell is wonderful!
Read my interview with Steve Hawkes!
1972 TARZAN Y EL ARCO IRIS (91 minutes)


Steve Hawkes. Kitty Swan. In order to claim his rightful throne, a young boy must participate in a race/battle against an evil warrior in search of the Green God. A trio of American trappers get mixed up in it when emeralds are discovered. The boy defeats the villain, but Tarzan (not "Zan" this time) helps him escape from the Americans!
Tarzan does almost nothing in this movie and is only marginally involved in the climax. The villain's underlings all wear ridiculous rubber masks (where do natives get rubber masks?) and the Americans can't decide what they want to bring back to the states - first it's animals, then it's Tarzan, and, finally, it's emeralds. Too bad they get nothing...
1973 TARZAN EN LAS MINAS DEL REY SALOMON (86 minutes)


David Carpenter. I'm not sure I've got this one figured out. It looks like a woman (Doris?) is looking for her brother (?) who crashed his plane in the jungle. Doris hires a crooked guide, but he is using the opportunity to bring guns to the natives. Meanwhile, Doris' brother is a captive of some evil natives (and, I'm guessing, the protectors of Solomon's Mine) and they plan on sacrificing him.
Tarzan, obviously VERY attracted to Doris, decides to help out. In the end, everybody ends up dead with the exception of Tarzan and Doris. She stays in the jungle with Tarzan as the scene fades...
Carpenter is a young Tarzan and Weissmuller's famous yell is used. A very funny scene occurs in the middle of the movie: Tarzan is finally going to kiss the girl (after spending most of the film leering at her), he leans forward and the scene changes to bees and hummingbirds pollinating flowers!
1973 TARZAN Y EL MISTERIO DE LA SELVA (82 minutes)


Richard Yestaran. Didi Sherman. A Nazi war criminal, hidden in the jungles of Africa, is running guns to the presumably hostile natives (we don't see much of them). The governments of the world send an inept band of agents, poorly disguised as a reverend and four nuns, to investigate.
The real "Jungle Mystery" in this film is the motive behind the villain's gunrunning! It is never explained and makes no sense. Equally mysterious is the inclusion of Tarzan in the story - he doesn't do anything!
19?? TARZAN AND COBRA (120 minutes)


Viju Penkar. Leena Dass. This movie, from India, is unbelievably horrible! Tarzan (or Simba, or whatever his name was) is a strange, chunky man whose biggest concern seems to be keeping his silly wig dry. I really don't know what this movie was about. I do know there were many, widely divergent, things going on and lots of snakes.
There was a strange hunter strolling in and out of the story doing a lousy Lou Costello impersonation. In the dungeon of the Cobra Temple, Tarzan battled a man in the worst looking gorilla suit I've ever seen. There were THREE musical numbers! If all that wasn't enough, the heroine's father got his head chopped off moments before the big happy, romantic ending...
1982 JUNGLE MASTER (86 minutes)


Johnny Kissmuller Jr. (!?). Simone Blondell. Lord Carter finances an expedition hoping to capture Karzan (that's what he's called in this one) for scientific study. They get more than they bargained for when they capture Karzan AND his mate, Sheran. With some help from Cheeka (Karzan's chimp companion), Karzan escapes. Later, Sheran escapes but Karzan is recaptured. Ultimately, Lord Carter decides it would be wrong to take Karzan from his jungle home - so he releases him. End of movie...
---
Non-Tarzan Movies
based on the works of Edgar Rice Burroughs
1917 THE LAD AND THE LION (? minutes)


Will Machin. Vivian Reed. The first ERB movie. Unfortunately, no known copies of this film exist.
1918 THE OAKDALE AFFAIR (? minutes)


Reginald Denny. Evelyn Greeley.
1936 THE LION MAN (? minutes)


Jon Hall. Kathleen Burke. The second film version of THE LAD AND THE LION.
1941 JUNGLE GIRL - 15 Chapter Serial (270 minutes - video, DVD)


Frances Gifford. Tom Neal. One of my favorite serials! Nyoka battles sinister villains, evil natives, and a guy in a really bad gorilla suit! This serial has some of the most amazing vine swinging scenes I've ever seen. Gifford joined Weissmuller & Sheffield a few years later in TARZAN TRIUMPHS (1943). You really can't go wrong with a classic Republic serial.
1975 THE LAND THAT TIME FORGOT (90 minutes - video)


Doug McClure. Susan Penhaligon. The first half of this movie is pretty good. It takes a dive (sorry) after they reach the hidden land of Caprona.
1976 AT THE EARTH'S CORE (90 minutes - video)


Doug McClure. Peter Cushing. Caroline Munro. I bet you thought the Mahars looked bad in TARZAN: THE EPIC ADVENTURES, didn't you? The Mahars, and most of the other creatures, look pathetic in this film. The best thing about this movie is the wonderful "Iron Mole" and, of course, Dia (Dian, in the book) the Beautiful (who certainly is!)...
1977 THE PEOPLE THAT TIME FORGOT (90 minutes - video)


Patrick Wayne. Doug McClure. Sarah Douglas. Dana Gillespie. An expedition travels to Caprona to rescue the couple left stranded there in the earlier movie. Lots of wild action and big explosions, even if there isn't much story. What's the deal with the Frazetta paintings hanging in the sacrificial chamber?
---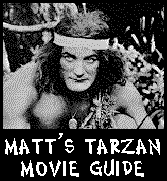 Recommended Tarzan Reading
Obviously, any reading list MUST start with the 24 Tarzan novels written by Edgar Rice Burroughs. Any one of them is better than the best Tarzan film! My personal favorites are (1) Tarzan of the Apes, (2) Return of Tarzan, (5) The Jewels of Opar, and (6) Jungle Tales of Tarzan. The Tarzan Twins books are fun, too.
Other "Official" Tarzan Novels:
Tarzan and the Valley of Gold (1966) by Fritz Leiber
Tarzan: The Lost Adventure (1995) by ERB - completed by Joe Lansdale
Tarzan: The Epic Adventures (1996) by R.A. Salvatore
The Dark Heart of Time: A Tarzan Novel (1999) by Philip Jose Farmer
There are, of course, countless "official" Disney Tarzan books - and, as much as I enjoy reading them, I'm not going to attempt to list them all.
Books About Edgar Rice Burroughs:
Edgar Rice Burroughs: Master of Adventure (1965) by Richard Lupoff
The Big Swingers (1967) by Robert Fenton
Edgar Rice Burroughs: The Man Who Created Tarzan (1975) by Irwin Porges
Edgar Rice Burroughs: The Exhaustive Scholar's and Collector's Descriptive Bibliography (1996) by Robert Zeuschner
Tarzan Forever: The Life of Edgar Rice Burroughs (1999) by John Taliaferro
Edgar Rice Burroughs: Creator of Tarzan (2000) by William J. Boerst
The Pearl Harbor Murders (2001) by Max Allan Collins (fiction)
Books About Tarzan Movies:
A Pictorial History of the Tarzan Movies (1966) by Ray Lee & Vern Coriell (more magazine than book, but very cool!)
Tarzan of the Movies (1968) by Gabe Essoe
Kings of the Jungle (1994) by David Fury
Johnny Weissmuller: Twice the Hero (2000) by David Fury
Others:
The Story of Johnny Weissmuller: The Tarzan of the Screen (1934) - A Big Little Book by Eleanor Packer (Includes summaries of Tarzan the Ape Man and Tarzan & His Mate)
Tarzan Escapes (1936) - A Big Little Book (I hope to have a "reading" copy of this wonderful book available here on my Jungle Miscellany page soon!)
Water, World, and Weissmuller (1964) by Narda Onyx
Tarzan Alive (1972) by Philip Jose Farmer
And this only scratches the surface. I didn't list all the fantastic Tarzan comics or the less than stellar "Unofficial" Barton Werper books, or the other Big Little Books - but you get the idea...
I also highly recommend ANY book by Edgar Rice Burroughs. His Mars series is terrific and I just can't read The Monster Men often enough!
Special "Unauthorized" Thank You's To Ward Orndoff and Tony Martin!
Tarzan® is the property of Edgar Rice Burroughs, Inc., Tarzana CA
This independent reference to, and appreciation of, the Tarzan movies is copyright © 1995-2008 Matt Winans
Originally posted in October 1995 - Last Modified 22 January 2011
Send comments/criticisms/fan mail to Web-Host
Maintained in Memorial to Matt Winans
1964-2008