1933 TARZAN THE FEARLESS - 12 Chapter Serial (? minutes)


Buster Crabbe. Jacquelene Wells.

1933 TARZAN THE FEARLESS - feature version of serial (85 minutes - video, DVD)


Buster Crabbe. Jacquelene Wells. A safari comes looking for a friend of Tarzan, Dr. Brooks. Brooks has left in search of a lost temple and this, of course, excites the crooked safari guides. Lots of action and mischief follow.
This movie (I haven't seen the serial version) is saved only by the cool shots of Tarzan swinging through the trees. The female lead is Mary, not Jane.
1935 THE NEW ADVENTURES OF TARZAN - 12 Chapter Serial (? minutes - video)


Herman Brix. Ula Holt. Tarzan joins an expedition to the jungles of Guatemala in search of the Dead City and its priceless Lost Goddess. Tarzan rescues his old friend D'Arnot from Mayan captivity and, ultimately, wins the Goddess.
Tarzan as an intelligent gentleman. Herman Brix looks and acts (at least for the opening chapter) more like the Tarzan of the books than any actor before or since. Too bad the story is pathetic. The two movies made from this serial make even less sense.
1935 THE NEW ADVENTURES OF TARZAN - feature version of serial (75 minutes)


Herman Brix. Ula Holt.
1937 TARZAN'S REVENGE (70 minutes - video)


Glenn Morris. Eleanor Holm. A hunting expedition arrives and quickly finds trouble. A sheik wants to make a bride of the lead hunter's daughter, Eleanor (not Jane, again). Tarzan has other ideas and foils the sheik's plans at every turn.
This movie is just plain horrible.
1938 TARZAN AND THE GREEN GODDESS - 2nd feature from of 1935 serial (72 minutes)


Herman Brix. Ula Holt.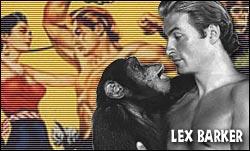 1949 TARZAN'S MAGIC FOUNTAIN (73 minutes)


Lex Barker. Brenda Joyce. Tarzan must protect a lost race who have discovered a fountain of youth from ruthless kidnappers. Jane is tricked into leading them to the hidden city.
Elmo Lincoln has a cameo in this one. Barker's first outing as Tarzan is an exciting one. He makes an interesting Tarzan and fills Weissmuller's shoes (or lack thereof) admirably.
1950 TARZAN AND THE SLAVE GIRL (74 minutes)


Lex Barker. Vanessa Brown. Women are being kidnapped and a plague threatens to spread out of control. Tarzan must rescue Jane and the other women before they are forced to repopulate a plague stricken city.
1951 TARZAN'S PERIL (79 minutes)


Lex Barker. Virginia Houston. A ruthless slaver/gunrunner has escaped from prison and returned to his evil ways. Tarzan must stop him from contributing to a tribal war and rescue Jane in an exciting climax.
This one has some nice, authentic, African location footage...
1952 TARZAN'S SAVAGE FURY (80 minutes)


Lex Barker. Dorothy Hart. Another hunting party comes to Africa - this time lead by a man claiming to be Tarzan's cousin, the current Lord Greystoke). The man is actually a crook named Rokov and he hopes to steal a cache of diamonds from the Waziri.
Even with a new Boy-like character, Joey, running around with Tarzan, this movie isn't very good.
1953 TARZAN AND THE SHE-DEVIL (76 minutes)


Lex Barker. Joyce Mackenzie. Tarzan must keep ivory hunters, led by the She-Devil of the title, from slaughtering a huge herd of elephants.
1955 TARZAN'S HIDDEN JUNGLE (73 minutes)


Gordon Scott. Vera Miles. A hunting party's arrival angers Tarzan. The crooked hunters, with the unwitting help of a United Nations doctor and his beautiful assistant, travel to forbidden territory to trap their prey. Tarzan defeats them, rescues the doctor and his assistant, returning the jungle to normal.
Gordon Scott's first Tarzan and, boy, does it stink! Scott redeems himself later (see below)...
1957 TARZAN AND THE LOST SAFARI (84 minutes)


Gordon Scott. Betta St. John. After rescuing the passengers of a crashed plane, Tarzan must lead them safely through the jungle. The natives of Opar have other ideas and harass the party along the way.
In color! I like the premise of this movie and probably enjoy it more than it deserves. There is a wonderful children's book adaptation of this movie.
1958 TARZAN'S FIGHT FOR LIFE (86 minutes)


Gordon Scott. Eve Brent. Tarzan must convince the local natives that the "white doctor" is a good thing. A devious witch doctor doesn't want that to happen.
Another Gordon Scott stinker...
1958 TARZAN AND THE TRAPPERS (74 minutes - video, DVD)


Gordon Scott. Eve Brent. Tarzan battles a motley band of trappers ... one is after a lost treasure - another wants to murder Tarzan.
Originally intended for a television series, three episodes were cut together to make this slow movie.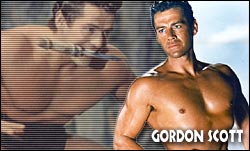 1959 TARZAN'S GREATEST ADVENTURE (88 minutes)


Gordon Scott. Sara Shane. This is a FANTASTIC movie! Filmed on location in Africa, Scott plays an intelligent Tarzan and the pace never lets up! A young Sean Connery plays one of the villains.
Slade and his cronies are traveling upriver to a hidden diamond mine. Along the way the kill and plunder, taking what they need. Tarzan must stop them before they get there and proceeds to pick off the henchmen one by one (when they aren't busy fighting amongst themselves), leaving just Slade left for the incredible finish.
1959 TARZAN, THE APE MAN (82 minutes)


Denny Miller. Joanna Barnes. A remake of the 1932 Weissmuller/O'Sullivan film.
This is usually considered the worst Tarzan movie (I rank it a notch above Tarzan in Manhattan, 1989). There are color tinted scenes from earlier Weissmuller movies in this film. Tarzan is never even referred to by name. And, finally, the rubber leopard face is the funniest thing I've ever seen in a Tarzan movie!
1960 TARZAN THE MAGNIFICENT (88 minutes)


Gordon Scott. Betta St. John. Gordon Scott returns with another winner! This isn't quite as good as Tarzan's Greatest Adventure but it's mighty close. Jock Mahoney, who plays Tarzan in the next film, is the villain!
Tarzan, burdened with an assortment of stranded travelers, must deliver Coy Banton, a cold-hearted murderer, to the authorities in Mantu. Following them on their journey, and determined to stop them before they reach Mantu, are Banton's equally cold-hearted father and brothers.
1962 TARZAN GOES TO INDIA (86 minutes)


Jock Mahoney. Tarzan travels to India to save hundreds of elephants that will be drowned when a dam (for a newly constructed power plant) is completed. With the help of Jai, the elephant boy, Tarzan manages to save the elephants and the power plant.
I've never really cared for this movie or for Jock Mahoney's version of Tarzan (I like most of his other roles, though). Some nice location filming...
1963 TARZAN'S THREE CHALLENGES (92 minutes)


Jock Mahoney. Again Tarzan travels to a foreign country - the time the far east. Tarzan, championing for the boy set to assume the throne, must battle a challenger in an ancient ritual.
Mahoney took ill while filming this movie and by the end he looks horrible. It is hard to believe Tarzan could best Woody Strode in the shape he was in!
1966 TARZAN AND THE VALLEY OF GOLD (90 minutes)


Mike Henry. Nancy Kovak. Tarzan travels to Mexico in an attempt to stop a group of mercenaries from murdering a looting a lost Incan civilization. With the help of a lion and a leopard, Tarzan tracks them down and makes sure justice is served.
James Bond meets Tarzan - this one has a trendy 60's feel to it. I enjoyed the Fritz Leiber "novelization" much more.
1967 TARZAN AND THE GREAT RIVER (88 minutes)


Mike Henry. Diana Millay. A deadly leopard cult is sacking villages and enslaving their people to work in a hidden diamond mine. Tarzan defeats Barcuma, the cult leader, and frees the people.
1968 TARZAN AND THE JUNGLE BOY (90 minutes)


Mike Henry. A boy, presumed dead six years earlier, is found alive and well and living in the jungle. While Tarzan is trying to locate the boy, he gets mixed up in a tribal feud as they attempt to choose a successor for their dying chief.
Another hopeless attempt at a Boy-like character...
1970 TARZAN'S DEADLY SILENCE (88 minutes)


Ron Ely. Jock Mahoney & Woody Strode play the villains in this feature version of a two-part story from Ely's television series.
A madman called the Colonel is enslaving the locals and building himself a formidable army in the process. Tarzan, after temporarily losing his hearing, battles the military expert with the help of jungle animals and tactics.
1970 TARZAN'S JUNGLE REBELLION (92 minutes)


Ron Ely. Ulla Stromstedt. Another movie made from a two-part story (The Blue Stone of Heaven) from Ely's television series.
The Blue Stone of Heaven, according to legend, will give its owner incredible power. The evil Colonel Tatakombi wants it and doesn't intend to let Tarzan guide an archaeological team to it.
1982 TARZAN, THE APE MAN (112 minutes - video)


Miles O'Keeffe, Bo Derek. Another remake of the 1932 Weissmuller film.
Tarzan doesn't speak a word (he does grunt a lot) and Jane can't seem to keep her clothes on. A nicely photographed movie but it still really stinks.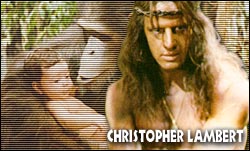 1984 GREYSTOKE, THE LEGEND OF TARZAN (129 minutes - video)


Christopher Lambert. Andie McDowell. The story of the Tarzan's early life among the apes and his first visit to civilization.
If the movie had ended at the mid-point it would have been the best Tarzan movie ever made! The opening portion, dealing with Tarzan's early jungle life, is fabulous! It's when the scene shifts to civilization the movie takes a nosedive. I thought Christopher Lambert did a great job...
1989 TARZAN IN MANHATTAN - TV Movie (100 minutes - DVD)


Joe Lara. Kim Crosby. Cheetah is kidnapped and brought to New York to be used as a test subject in the villains evil scheme. Tarzan follows, meets Jane (a cab driver!) and her father, rescues the animals and foils the villains plans.
The worst Tarzan movie ever made - the less said the better.
1996 TARZAN: THE EPIC ADVENTURES - TARZAN'S RETURN - TV Movie (100 minutes)


Joe Lara. Cory Everson. Joe Lara is back - and he has improved. The climax takes place in Pellucidar; something we've never seen in a Tarzan film. Tarzan is (reasonably) intelligent but what is the deal with those boots!?
1998 TARZAN AND THE LOST CITY (83 minutes - video, VCD, DVD)


Casper Van Dien. Jane March. White hunters are searching (again) for the treasures in the lost city of Opar. Tarzan is called in to help stop them.
A lot of nice scenery and a decent (though short and very soft-spoken) Tarzan. More hocus-pocus than any other Tarzan movie and I'm not really sure why Opar needed Tarzan's help - they seemed more than capable of taking care of things themselves.
1999 ENCHANTED TALES: TARZAN OF THE APES (48 minutes - animated - video)


From Sony Wonder Home Video. Produced by Diane Eskenazi. A cheaply made, direct- to- video, animated film trying to capitalize on the Disney feature film. Some embarrassing songs and poor animation make this "movie" very easy to dislike.
1999 DISNEY'S TARZAN (100 minutes - animated feature - video, VCD, DVD)


Tony Goldwyn. Minnie Driver. Disney does Tarzan and they do a wonderful job! Fantastic animation highlights this delightful story of Tarzan's youth and his first encounter with Jane. Tarzan races through the jungle like never before. The scene where Tarzan and Jane exchange names is terrific!
2002 DISNEY'S TARZAN AND JANE (70 minutes - animated - video, DVD)


Michael T. Weiss, Oliva d'Abo. Tarzan and Jane celebrate their first anniversary together in this direct-to-video sequel. The character development, plot, and animation are all markedly inferior to the feature film version, but the movie is still quality kid's fare.
Tarzan® is the property of Edgar Rice Burroughs, Inc., Tarzana CA
This independent reference to, and appreciation of, the Tarzan movies is copyright © 1995-2011 Matt Winans
Originally posted in October 1995 - Last Modified 01 July 2011
Send comments/criticisms/fan mail to Web-Host
Maintained in Memorial to Matt Winans (1964-2008)
Tarzan Movie Guide (d/b/a Brady World) is a participant in the Amazon Services LLC Associates Program, an affiliate advertising program designed to provide a means for sites to earn advertising fees by advertising and linking to amazon.com.